Looking to maximize your meditation, spiritual, or personal development efforts in less time? These brainwave entrainment reviews will show you how certain tones and beats are used to help you experience deep and profound results within minutes.

Before we get started, in case you've never heard of brainwave entrainment aka brain entrainment, let's cover the bases…
What is Brainwave Entrainment?
Brainwave entrainment is a synchronization of brainwave frequencies with periodic stimuli such as light, sound, or vibration that produce frequencies to induce specific brain states.This has been achieved traditionally for thousands of years through the use of things such as meditation, chanting, prayer bowls, drum circles, and trance dancing.
But before you run off and join a drum circle (more power to you) what if I told you that with the dawn of modernization new tools rooted in these traditions of sounds and vibrations have been developed as a way for people to reach a state of deep meditation quickly?
How quickly?
Whereas it can take months, or even years of meditation to reach certain powerful brainwave frequencies, by training the brain with things like binaural beats and isochronic tones those same frequencies can be reached almost instantly. I don't know of an easier method to experience such powerful changes within the mind and body within such a short period of time…except for maybe the Vulcan mind meld.
What are Binaural Beats?
Throughout the day whenever we're doing or experiencing anything our brains are operating at certain frequencies. Binaural beats are audio tracks that contain sounds or tones with specific frequencies. These can actually be measured with an EEG machine.
When measuring the electrical pattern of a person listening to these tones they have been scientifically proven to alter brainwave frequencies, bringing both hemispheres of the brain into a resonated, and synchronized state. When both sides work together the brain can reach full potential, allowing magical things to happen.
How Do Binaural Beats Work?
By nature, humans aren't able to hear any sound below 20Hz. Most brainwave frequencies are below this level. By playing two similar yet slightly different tones or frequencies in each ear this creates a tone that isn't really there. This third tone is known as a binaural beat. These tones have frequencies that the brain resonates to.
For example: Playing a tone of 200Hz in the left ear and 209Hz in the right ear creates a binaural tone of 9Hz. It only takes a matter of minutes for the brain to turn this perceived tone into a state of mind. In this particular case 9Hz promotes alpha brainwaves, a frequency that has been proven effective at improving, among other things, memory. This graphic shows the different brainwave frequencies and some of the states they induce.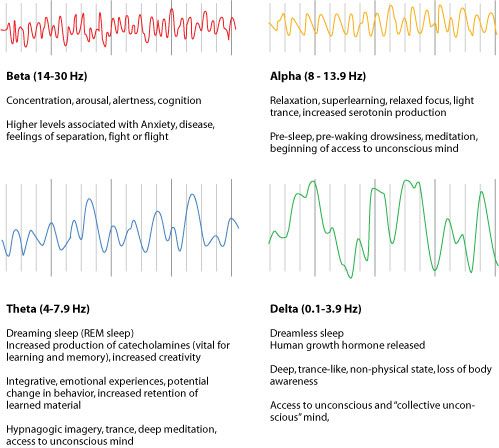 Note: A fifth frequency, Gamma (40Hz), although not represented in this illustration, induces things like inspiration, higher learning, and focus.
Benefits of Binaural Beats
Added to the benefits from the illustration above are:
Stress and anxiety reduction
Increased energy
Increased motivation
Personal and spiritual development
Overcoming depression
Overcoming addiction
Restful sleep
Enhanced creativity
Pain relief and management
Healing within the body
Note: These types of beats must be listened to while wearing headphones. It is the only way to integrate both sides of the brain.
What are Isochronic Tones?
There are many opinions that these tones may be the most effective tool for brainwave entrainment. Unlike the two tones used in binaural beats, a singular tone is used, it is then spaced out and turned on and off rapidly. This creates sharp, distinctive pulses of sound with the intensity going up and down and back again in an evenly spaced manner. In essence it provides an intense synchronization of the brain at a quick pace.
Isochronic tones alter brainwave frequencies and induce a positive state of mind. The same type of benefits can be achieved with them. Obviously the draw with isochronic tones is reaching deeper and more productive brainwave states with very little time involved. While the use of headphones is recommended, it isn't required, but a noise and distraction free environment are necessary for best results.
The Power of Isochronic Tones
Isochronic tones are quite powerful by themselves, however, I find that listening to them on their own is annoying for me, my eyes tend to jump around, and at times I have even experienced nausea. I don't do well with caffeine or too much stimuli and that's the best way I can describe my sensation while listening to isochronic tones by themselves. That, and the feeling of motion sickness.
But, and this is a HUGE but – layered with binaural beats, other instruments, or music it's a totally different experience.
I thoroughly enjoy throwing on my headphones, shutting out the chaos, noise, and distractions outside and zoning out with meditation tracks that layer isochronic tones with music. My state of mind and body feel great after just a 15 minute session, and if time permits, I suggest 30-60 minute audios – like a spa day for the mind. I feel relaxed, gain more clarity, and am more prepared to face and handle challenges.
Besides, there's something that just makes me feel good knowing my brainwaves look like this after just 15 minutes! Ahhhhhh.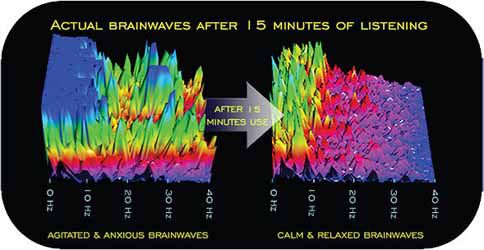 My Top Recommendations For Brainwave Entrainment
With the dawn of YouTube, obviously we have access to tons of free videos, but you really have to watch out. The problem is that many people are treating brain entrainment like a trend and creating loose versions of audios that have not been scientifically proven to work. You can't just throw some tones and beats together and have them be effective.
There is a proven scientific method for the engineering process in order for these tools to work correctly. Which is why getting your beats from a trusted source is the way to go, one who's technology is backed by research.
1. Meditation Power
Using isochronic tones and binaural beats, Meditation Power offers HypnoGuide Treatments and Acoustic Brainwave Activation to alter your states of consciousness and directly influence your inner potential.
You have access to a library of 11 HypnoGuide Treatments and over 40 different Activation Acoustics, each designed for various ailments and desires, and to alter your state of consciousness in minutes. Headphones are not required, although I recommend them to enhance your experience.
Library includes:
HypnoGuide Treatments including 3 different tracks in digitial high quality Mp3 format
General introduction track
Verbal hypnotic induction track
Non verbal track
Activation Acoustics in digital high quality Mp3 format
Clear and easy to undertand download pages for all products
Products can be individually purchased, or package deals are offered to take advantage of discounts for multiple products purchased together. Each includes instant downloads that can be played on any computer or device with Mp3 capability. They also offer a 100% risk free 60 day money back guarantee.
Customer support is also available 24 hours a day, 7 days a week should you need assistance.
Caution: Brainwave entrainment is completely safe for most people, and not addictive, as I mentioned earlier it is actually effective at helping to overcome addictions. However it should not be used by anyone with a history of or who is prone to epilepsy, seizures, severe tinnitus, has suffered head injuries, has a pacemaker, or psychosis. May not be for children. Not for use while operating machinery, a motor vehicle, as it does induce an extremely relaxed state. To be on the safe side, any person with extreme health issues should use these tools under the supervision of a health practitioner.
Please share your thoughts, experiences, and questions in the comment section below!