Being on the go these days is an important reason to keep easy and healthy snacks on hand. It can mean the difference between grabbing something nourishing or grabbing quick and easy junk food.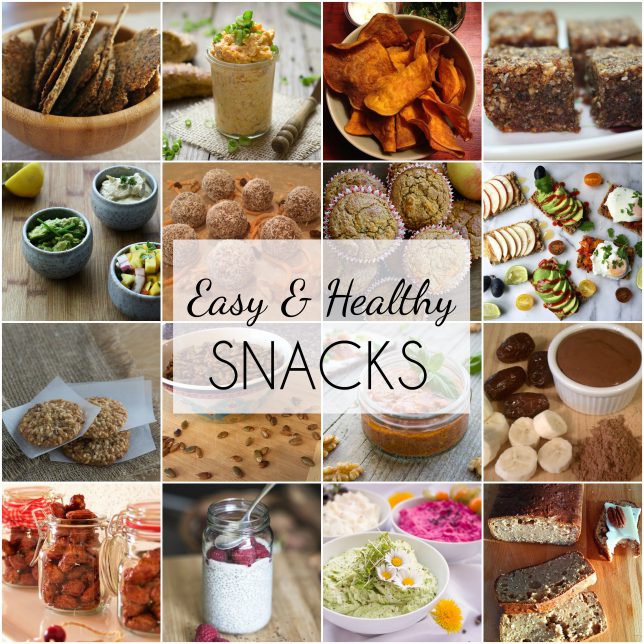 I tend to get a regular case of the munchies so if feeling snacky is a thing for you too, I got ya covered! Munching on a quick snack can also be the difference between a happy or HANGRY mood.
Plus, have you noticed when your blood sugar is balanced and your belly is satisfied, you're much less likely to overindulge at your next meal? I also get that you're busy, which is why a little prep can go a long way.
Stay on Track by Prepping in Advance
I find that preparing healthy snacks at the beginning of the week not only saves me time the rest of the week but it's like a "snack insurance policy" so to speak.
When there are healthy munchies ready to grab in your pantry or fridge, it's a no-brainer…simple, easy…good to go! It eliminates the possibility of grabbing something crappy. Make it easy on yourself =)
Keep it as Simple as You Need to Make it Happen
Depending on how busy life is and how you're feeling, it doesn't have to be anything too time consuming – another week things may be different for you. It can be as simple as tossing together a simple trail mix using your favorite nuts, seeds, dried fruits, and whatever else you like.
Making your own trail mix is easier on the budget than ready made, plus if you use this tip you'll end up with a healthier version than most trail mixes found in grocery stores…
Tip: Use unsulfured dried fruits with no added sugars, colors, oils, or preservatives and raw organic nuts and seeds when possible. 
My favorite go-to trail mix is a combination of raw almonds or pumpkin seeds, tart and tangy nutrient packed golden berries, and sweet gluten-free, dairy-free dark chocolate chips.
I toss together the following and store it in the refrigerator. Sticking to the recommended serving size makes it so I avoid overdoing it, which is easy to do with trail mix (at least for me – hehe).
Another super simple snack I love is sweet potato toast made by slicing a sweet potato lengthwise into 1/4-inch-thick pieces, toasting them for two rounds, and then using them as toast instead of bread. You can top them with your faves like nut butter, raw honey or dates and cinnamon, or savory toppings like avocado, sea salt and pepper, or tuna salad. The options are endless.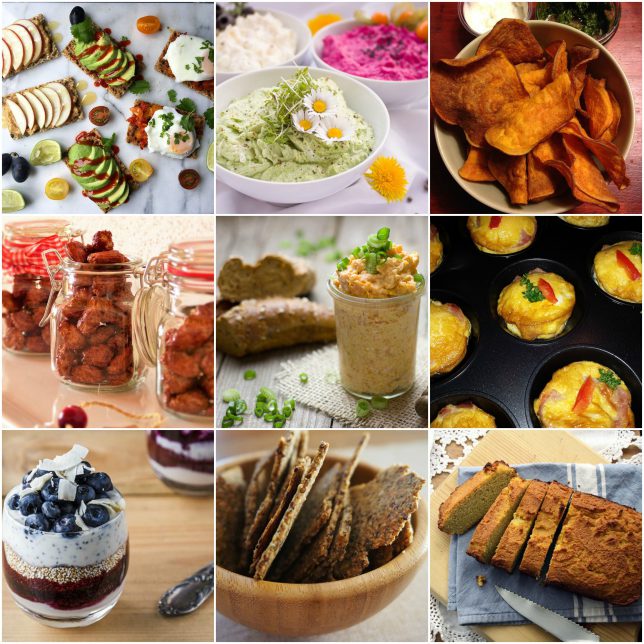 And if you're in the mood to whip up a recipe, I've rounded up some tasty snacks that are packed with nutrients and great for both adults and kids, to help you and your family enjoy healthy snacking on a regular basis!
These are categorized to make it easier to find the type of snacks you're after and even though I'm not strictly gluten-free, a lot of these happen to be gluten-free and even dairy-free which is an added bonus.
No-Bake Bars
No Bake Apricot Oat Protein Bars
3 Step No Bake Chocolate Coconut Cashew Bars
Homemade Larabars – With Different Flavor Ideas
Healthy No-Bake Ginger Cashew Cookie Bars
Energy Bites
4-Ingredient Oatmeal Chocolate Chip Cookie Dough Bites
Cookies
Chocolate Hazelnut Breakfast Protein Cookies 
Muffins
Spinach and Tomato Egg Muffins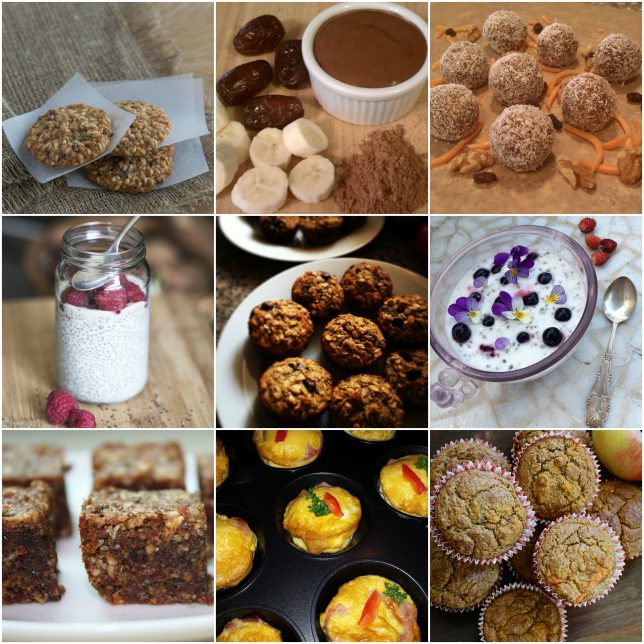 Crunchy Snacks
Maple Cinnamon Roasted Almonds
Chips
Crispy Baked Sweet Potato Chips
Gluten-Free Breads and Crackers
Paleo Chocolate Zucchini Bread
Dips
Puddings
Healthy Dark Chocolate Pudding – Nutribullet Style
Vanilla Chai Spiced Chia Pudding